Naples, Napoli, Nápoles: the last installment, the first chapter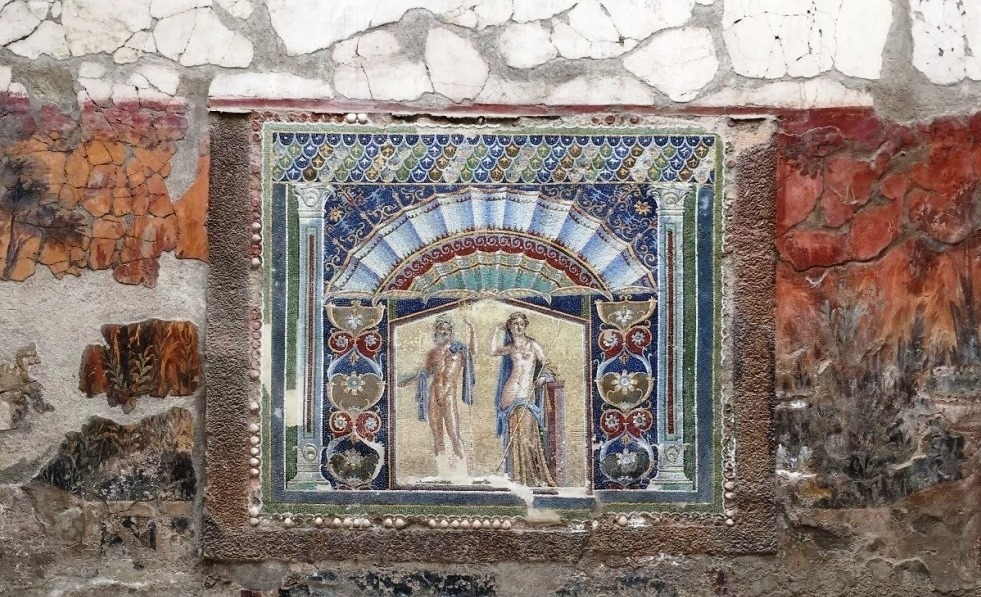 Together, time stops. Apart, time turns to bring us together.
How many days and how many nights
Have I held your heat to my chest,
turned memory to immortal treasure,
from one of your tiny corners gone down
to count dawn's sails about your sea?
History upon history, endless history
Ruins or trash, what's the difference,
of you no one ever so spoke well,
but me of whom you broke the spell:
preaching only the real are romantic
as the dormant volcano awaits.
— (Knowing me is enough to be known
Knowing you is enough to be new) —
A city or a woman, what's the difference,
When what one wants is a home.
I'm just going to come out and say it, in Naples last summer I met the woman of my dreams.
<From the mountaintop> Of my dreams!
Although she is there, I could not have penned a better person for me. To some, this sounds unexpected. But "unexpected" would fail to capture the sentiment: I was always looking for her, and when I found her I knew why. To others, this sounds too good to be true. But "too good" would betray the fact that keeping a relationship is harder than not even trying at all. And yet, we never did what was easiest, did we, babe? We always did what we thought was right.
Some of the closest people to me have never heard this until now. If it hurts, I am sorry. It's the truth. All the summer episodes lead to this post, the last installment of the summer 2018 narrative, the first chapter of us. But first,
Context.
What to say, this is a travel narrative, it begins at the train station in Naples, called Garibaldi. The air was sun-tan hot. Rich assholes texted with frowns on their face. Amputees begged for money with open mouths. Teenagers spit and yelled, acted snarky, or rushed. Everyone there echoed a deep inside of me, which is why I remember as many faces as I do. Also, the name Garibaldi is poetic, when you learn that the man was an Italian nationalist of the 19th century, who helped unify the country. Successfully, that is; you see, my great-great-etc-great-grandfather, D'Agnese, of the 18th century, tried, won, yet ultimately failed to free the once Bourbon state. His name wouldn't have been as cool for a train station, anyway. So Garibaldi it stayed. And I was there to taste roots, finish reading My Brilliant Friend, but soon get back to New York, to start my life after grad school.
You ever seen Naples? Let me get to the random swanky hostel first. Checked in by a Nicolas, another argentino, who found the city as welcoming as the other Argentines who moved (back) here, by the hundreds, maybe thousands. A quick google shows over half of the population of Argentina has some degree of Italian decent. That explains why one sees trash in piles on the cobbled streets, hears loud car horns and raspy radios, gets hugs and kisses, "ciao bellos" from strangers. To me, Buenos Aires is like a bigger, younger Nápoles. Only, here there are pastel painted buildings built over Roman ruins standing over an ancient Greek metropolis; the chesty Vesuvius and shining Mediterranean running abreast. Could there be more than a historical, economic, and chance connection between my present, recent past and distant past? (Who knew the near future would be implicated, too.)
The wind unbuttoned my shirt, a golden feeling eased over me after running around the last month and a half — I could reflect at peace, at this first night alone, as I explored the city just like that, with a cool Greco di Tufo and an unfolded map — Greco like the character in the book I was reading, and an unfolded map because I wasn't going to go out.
Plus, that night I joined a group of Brazilians who had been out in the sun too long, an Italian with a sweet-tooth for tango, and a Bulgarian engineer with too many frequent flier points. They wanted a performance, so I read them from my novel. Indeed, I had carried it around with me all summer, and read on many occasions during intimate moments like these. Although, as easily as they trickled in, these fast friends fizzled out. Only the Bulgarian was left, asking questions, and raising her eyebrow at my answers. Did I mention she had blonde hair? What's there to say, this is a summer travel narrative. We stayed up so long she was yawning by the end. Why allude to more — fine we made out, that's it — no, the woman of my dreams wasn't this Bulgarian, but close. Why allude, then, isn't this supposed to be a post about the ultimate meet-cute? Just jump to the end! No. But yes. I've postponed writing this post for so long because of these encounters. To write or not to write. And yet I must write, for now at least to show that only one for me really counted in the end, that only one to me was real. I am at peace with the judges. I am serious. And yet, it gets sillier. Turn the page.
Dreams.
I wrote "of my dreams" because She's everything I could have ever asked for in a woman, a partner, after having been once too shy to ask or too afraid to admit what I wanted. I ask and I admit it here. Meeting her was like waking up. What do I feel today? That there wasn't enough time spent together, because the return flight was booked too soon, that I would rather be together than apart, yea even in Napoli; ironic, since at the time, in those few days left to me in Europe before meeting her, I couldn't wait to return to New York.
That first morning in Naples, I got on my phone. My hostel didn't have any open beds the following night, let alone the rest of July. I knew I wanted to visit a couple of sites outside the city, so I booked five, not including that very night, in a small town called Portici. The five nights I had booked started the next night, since they didn't have a bed that same night, so I needed to stay in Naples. Luckily, there was a bed available nearby.
At a charming locale, a coin toss from the National Archaeological Museum, named, Art Hostel.
Behind a locked glass door that led to the main lobby, in a two-hundred year old building, a woman wearing a black tank top with even darker hair and glasses, and a smile as wide as the glass door, greeted me in my language.
"Just one night?" she asked, darkened by news of my short stay.
"I'll come back."
The receptionist nodded so much even her body nodded, as she showed me to my bed, practically grabbing me by the hand, and speaking in a cadence I had never before heard, like a wave, building up, crashing, full of salt and warmth. Noemi was her name, which reminded me of Christmas.
As soon as we got to the dorm, past a second lobby with yellow chairs, we saw my dorm room completely flipped upside down.
"It should be ready by noon."
Only a million people live in Naples, but half must live within a twenty block radius, the old town. Narrow streets, winding alleyways, clothes hung between buildings, underneath it all a two-thousand year old aqueduct, damn, Naples, the only Catholic city to have never sentenced someone to death from an Inquisition trial. Underneath the violence you read about, this city lacks no integrity, lacks no beauty, lacks no shame, lacks no poetry, who am I to even try, being just one in a thousand writers to write that came before, and a thousand other writers to write that come after.
After sending a handful of postcards, careening the city's underground with a tour group, wrapping in bubble-wrap a gift from at the limoncello factory, and buying a new notebook: I went back to the hostel. The beds were made. I showered, changed clothes, and sat at the balcony of the room in jeans to write the afternoon away. Then, another guest entered, tall, sturdy, with a kinky walk and kinky hair, who introduced herself immediately.
A story, or mistake: you wanted vulnerable, fine, here it is.
Her name started with an L, was a Swiss-German, nineteen. Studying Italian in Bologna. Had graduated high school a year early. Been a know-it-all all her life. Could impress you, compliment you, and make you ponder in a single breath, all at her tender age, quite the listener too, except when she felt the sting of vanity attack her throat, asking for affirmations, or playing too much. That night she would teach me the meaning of Gemütlichkeit. But let's skip the details, who wants to know.
The next day . . .
Omg, really, am I really going to mother fucking write about her, too? Jesus. I could barely stomach mentioning the Bulgarian of the night before. Again, why, why does this come out? It would be easier to not say anything. To write the truth is harder than not writing at all. But to lie would be impossible. This is a story, this is paper! What will She think, the real She, the one who asked me to write this blog post, the one who asked me to write all these summer travel posts, She who asked me to publish my book, what am I supposed to do? Tell the truth. But why? Why? You know what's so weird, my reader? That She actually enjoys reading stories about me, about her, about anything. Maybe writing about previous hookups proves something, that we're close, that it's out of my system, that all these lame ass hoes (ok, not lame, not hoes, lots of ass) were the same, but She's different. Or it proves that everyone She knows was right to talk shit about me, that I was just a frivolous writer, stringing the hearts of those who cross my path. If only it were so easy, to string hearts, or tell stories, to open up about what turns you on or off. Not her, I did not wind her. She wound me. She asked for this. I rest in truth, knowing precisely that what I am doing — spilling the complicated story of all the dirty shit that happened to me on the way to meeting her.
Promise it'll tie together in the end.
Gemütlichkeit. I suppose you can translate it as coziness. But closer to the feeling a German gets when hearing the word, it relates to chewing on a fluffy homemade pancake drizzled in syrup, by a fire, surrounded by evergreens and a mother who loves you.
The Swiss-German has the same date of birth as me, we found out that afternoon at Art Hostel, by the balcony. Next, she asked to read from my book. We took turns reading pages, our knees brushing. She told me she would shower, then we could explore Naples. That we did. Our only objective, venturing out that evening, became to find Sant'Elmo, the city's central castle on a hill.
No matter how you spin the story, we never reached Sant'Elmo. Too many uphill streets. She was a big girl, I too thin, we needed to eat. So we dove into a pizza shop older than the revolution, and turned each other on at a water fountain close by, made it back to the hostel just in time to share the dorm.
This is who I am. That is what I did.
I came faster than you can mispronounce Gemütlichkeit. She was not only big, big breasted, big boned, not fat by any stretch-mark of the imagination, but also wild and aggressive — enough to make ya boy oscillate. But she wouldn't let me go. We went at it even after two British dorks walked in, said uh. We just moved it to my top bunk, where she didn't sleep a two hour, and I, between falling asleep, kept getting woken up by her hand.
The real Portici.
At Herculaneum, I stood before a mosaic isolated from the rest, in a wealthy man's home, in the master bedroom next to what is called a Nymphaeum, a grotto of natural spring water dedicated to the nymphs: where there still stands an image of Neptune and Amphitrite, the sea-goddess Neptune saw dancing one sunny day, carried her off, and married her.
I knelt down before the mosaic, which is the cover photo for this blog post, and pondered its every ceramic piece. I took a photo of it, and stared at it on my phone, with the actual mosaic ahead. And I knew, I knew it meant something. That what I really, really wanted out of life, was to find my sea-goddess, carry her off, and marry her. The nymphs, they can spring water off to the side. I wanted my master woman, my Amphitrite, who would dance on the amphitheater of life with me, decorate our master bedroom with our imagination, free, free . . . my peace broke when a French family entered the room from behind me, speaking as loud as deadly ash, and stinking so much like armpit perfume that I had to leave.
Then, the same day, Vesuvius, alone, I and the climb. Yet alone, on the top of the volcano, and when I looked inside I saw a blocked pour on the face of the earth, a mossy blackhead, ready to burst any day. Somehow I made it down eventually. And then I walked from the train station in Ercolano back to the colonnade town, Portici.
Dream, pt II.
Did I mention already that earlier in the summer I had been reading a book by a Russian scholar, titled, The Wives, about the wives of the famous Russian writers of the last century and a half? Before my first book, before undergrad, before anything I had (have) always wanted to start a family. Once I became a writer, and I started falling for women harder and harder, I knew that the only way to live would be to fuse my inner most fantasies with the outer most world, the whole world being the woman I was with. It occurred to the first person who will read this post the other day that most of the women who broke up with me in the past did it because of the life I had chosen. My first serious relationship broke because I was studying Philosophy. The only toxic relationship, because I wanted to be a writer. Funny enough she was Russian and I thought being as Russian as possible, even emulating my favorite authors would somehow earn her approval. Nevertheless in the end she stabbed me to death with insults and, and, she . . . I have ever since looked for my Sophia, my Anna, my Nadezhda. "Behind every great man." Who? I am reborn. In my dreams I am a phoenix. My brother worried I would be so in love with the idea of love, that I would fit whoever came by into that mold, and ruin my life. Well, folks, here I am, admitting that I have definitely tried to fit square pegs into my round hole, and stopped up other people's holes myself from time to time, but none ever worked out, until now.
Oh, the next day, that's right, was in Pompeii. I did it like I do important things: wandering, cutting sideways over do-not-pass signs, napping in restricted areas, snapping a photo in the big open amphitheater, drinking out of public water fountains, why even list it, other than to say I did it, and that it made me think a lot. What's so beautiful about it? The fact that this used to be an important aristocratic getaway, but in the 70s (the 0070s) was fossilized in ash; what the absolute hell, the Neapolitans literally forgot about it, a whole volcanic eruption, a whole city disappearing, the world forgot about it, too. How are there buildings on top of buildings on top of buildings in cities around the world? Do we forget, or we don't listen? How many stories do our grandmothers tell that we brush off? I bet Pompeii became a rumor in two generations, a legend in four, and in six not even a whisper. Folks get busy. That's why I'm writing this love story, yes it's a love story, to keep it alive, while at the same time honoring the love stories that came before, and the love stories that will come after. (Not mine! Other peoples future love stories!)
Us meeting is one in an infinitely long series of love stories, both to the past with our every ancestor who procreated, to each future generation that will. Nothing but trial and error, hook ups and break ups until you fall in love again, and again, and again, until that sweet last one, or death takes you away. To tell the story of love is to keep it alive. To say "once upon a time," to quote my grandmother, is to understand that there was no beginning and there will be no end, that we are all always in the middle, in media res, reminding ourselves of our mortality, and the divinity that comes from telling a good story. Why did I have to write about those girls? Will She still love me? You're wondering her name? She isn't wondering, I tell it to her all the time. It's the most beautiful name I have ever heard.
A perhaps pointless pause to detail my money situation.
Dismal. I didn't have a job waiting for me when I returned to New York, so why the rush? To get settled somehow, to start my life after grad school. My roommates wanted to move to a new place, and had already found one and were signing the lease the following week. Necessarily, I plotted different scenarios: staying in Naples till my return flight out of Lisbon on the 31st, including the flight to Lisbon, would have cost upwards of a thousand bucks; too much. Going to Rome, to keep traveling, and make my way to Lisbon slowly, stopping in Bologna on the way, why not, would have cost sixteen-hundred; even more. Changing my flight, paying the penalty to Air France, and leaving from the cheapest airport in Rome, would have cost fourteen-hundred. What to do.
Options twist a man, leave him choked. I ripped out a new page from my notebook, and at the top wrote "Go home." As soon as I did that, it occurred to me I didn't have to change my flight, just buy a new one. Shop, shop, shop, hours go by, it's my vacation, I can spend it on a computer shopping for flights if I want to, asking the hostel to borrow their landline too.
An Aeroflot ticket later, staying in Naples until the 20th, asking my roommates to spot two months of rent and my share of the deposit until I could pay it back, and setting an appointment with my old boss to see her the Monday I got back, to pay for all this fun and games, only cost eight-hundred bucks, and a whole lot of pride. But at least I didn't have to ask my family for money, just my friends. "Fuck pride," says Marcellus Wallace in Pulp Fiction. God damn. I was locked in, had to work my ass off, and today have almost paid off those debts completely, having secured my old job fast, while getting to stay a few more days in Naples, not stress-free, but free. I divided the number of euros I had left by the number of days I had left. And I went out to the beach of Portici, laid on a massive block of concrete and cooked on top of it like a sunny-side up egg, the now familiar Vesuvius at my back, as I finished the last pages of My Brilliant Friend.
And the next day . . .
Amalfi. Which was pretty and all, but more fun was the train ride and the bus ride, which together took five hours there and back, and was beautiful.
The following day . . .
"OH MY GOD!" It was Noemi, so happy to see me. Did I mention she's the daughter of the owner? She hugged me and kissed both my cheeks and welcomed me back to my old dorm, in the same bed. She asked me what I wanted to do, seeing I was going to spend four nights at Art Hostel.
"Tomorrow I'm going to Piedimonte Matese," I told her, "where my ancestors are from." I spent the night drinking from the head of a fifth of vodka, which I had bought with my brother in Sicily, sharing with anyone walking by the second lobby with the yellow chairs, who would sit down for a chat or a story.
Piedimonte Matese.
Not to be confused with Piedmont, in the Northwest, bordering Switzerland and France, with Turin in the middle, and a bunch of good wine and horses. No, this Pied-i-mont-e was an hour or so by train north of Naples, and I went there with one purpose: to see the statue of my great-great-etc-great-grandfather, D'Agnese.
At Garibaldi, in Naples still, I spent my lunch money on two books. I could have bought just the second installment of the Neapolitan novels, but instead I bought a shorter Ferrante novel, The Days of Abandonment — about a woman who goes mad when her husband leaves her and their two children to chase the daughter of one of his colleagues — and an inexpensive, little collection of short stories called Dubliners.
I could have finished the Ferrante that day, it's short enough, but I spent the day ambling around the old town of my forefathers, totally in a trance. The grass was so green. The buildings so peaceful. I didn't want to find where the statue was, nor did I have to. I found my way there when I crossed the street named after him, after knocking on the doors of a few pretty chapels for fun. In the center, there he was. Ercole D'Agnese, a red-blooded revolutionary. Or, "MARTIRE, 1799" as the statue reads. Because he led a revolt, alongside Napoleon, to kick out the French monarchs from the region. Which became a republic, the first in Italy, democratically electing D'Agnese as its president.
I'm thinking now, that I've already written this whole story about Napoli to myself in my journals, so this post isn't for me; and I've already written this story in an email to her, so this post isn't for her either; it's for a third person, you, the curious one, who I hope might learn something, laugh, judge, or shut down the computer a better person because of it.
After a two hour hike up a mountain, a visit to a Franciscan monastery with a soon-to-be married couple, I returned to Naples.
Where I took a military-grade snus with two Swedes at Art Hostel that night, then passed out.
The story of Iv
á

n to Ela.

That's her name. Short for Elena, my grandmother's name, and the name of the main character in the Ferrante novels who everyone calls Lenù. Why mention this, because the whole fucking world is completely connected at every possible level, and finding myself today fully infatuated with another person equals realizing, coincidence upon coincidence, day by day, night by night, that we are meant to be, and always were, and always will be. Would we actually work out, though? Imagine us living together. She's far away, remember? Only time will tell, my old friend, time, yes, who turns for the two of us, now that we're apart, sometimes slowly, sometimes quickly, but always turning. Love is time and attention. Loving is to cleave to someone. Being in love is seeing the stranger for who they really are, divine.

The morning of the 18th. I spent it picking bed bugs off my shoulder. Had to bring it to Noemi's attention. In the main lobby, Noemi shouted at a someone with short red hair to come and finish signing some papers. But I didn't pay too much mind, nor remembered her name. (Guess who.)

Busy thinking about burning all my clothes due to the bugs was I, so I either did laundry that day or the next, which is relevant for mystical reasons (that "who" eventually rented an apartment around the corner). But I definitely saw a massive mural of Diego Maradona in the Spanish Quarter that very morning, before hiking two hours to a beach full of locals, recommended by the gentleman who housekeeps Art Hostel, a silver gentleman, I'll never forget him.

So happy that day, the 18th, so happy with nothing but a liter of sparkling water and an orange, hiking to the beach at the edge of town, shirtless was I, singing songs about the past, the future, other people's songs, then my own songs to the tune of famous movies. Gaiola was the name. I finished Days of Abandonment there, and realized I could never hoe someone like that Mario dude from the book, leaving a wife and two kids like that, but no judgement, sure ok, no judgement. Why even get married unless. Went back to Art Hostel, another two hours hiking, bought a five euro pizza on the way, munched at Piazza del Plebiscito, and showered a good shower.
The meet-cute.
Stepping out of the shower, I see a tampon applicator in the trashcan. When I open the bathroom door I kick a hair straightener. There are scattered about a ton of makeup kits, camera equipment, a laptop and USB-connected mouse, that hair straightener I ended up fixing to the side, and a pile of not dirty but unfolded clothes, centered around, by gravitational necessity, the bunk bed under mine.
It didn't take two neurons to understand that this was a bunch of one girl's stuff, a messy girl, who by her lack of care, her naivety to think no one would take her stuff, and the style of clothes, I figured must have been a pretty hot girl. But damn so messy. And right under my bed. I curled up with my hair still wet, made a phone call, then got to listening to a mix on YouTube, called Manhattan Jazz, while I wrote about the day.
Then, oh boy, then, from the top bunk I see a bobbing red ball of hair hopping about. I lean over the railing, and behold, there she was.
"Where are you from?"
Immediately, she replied, "Guess."
She had turned around. The lighting was dim. The air conditioning ran extra cool. I could see that in her eyes she glimmered, or perhaps it was the glitter in her makeup. I smiled, because she smiled.
"Give me a hint."
"Guess."
I wanted to say Ukrainian. She looked Slavic, but spoke impeccably. I did guess, a bunch of wrong way out of place places. I asked for a hint, "Do you like the sea?"
"I love the sea. I am from the sea."
An image of Amphitrite. I called her Bulgarian.
"Close."
An image of wooded highways came to mine, of a hiking trip through Transylvania came too.
"Romanian."
She lit up. Invited me for a cigarette.
I didn't smoke, but my brother's voice mimicking an Aussie bartender working in Mykonos came to mind (so much was coming). "When a ten out of ten asks you to smoke, you fucking smoke, mate."
I went out. She offered me one of her long and skinny cigs from her bag. She had a whole box, and we talked for seven cigarettes. Look at her go. We were on the balcony. The air wasn't sun-tan hot anymore, but a tea warm, feeling velvet.
She would not shut up, and I didn't ask her to. I was surprised and engaged. She ran and ran and ran with her words, she played obstacle courses with her words, she went from baton to baton with her words, never ceasing, not even with her cigarette, she would pull and talk out from the side of her mouth, exhale and continue talking. But it wasn't just talk. She was telling me her story.
Ela comes from a coastal town on the edge of the Black Sea. She met a Milanese man and fell hard, hard enough to transfer her remaining semester of studies to Milan to finish there, some sort of transfer, study abroad program, but the important part was that she was doing this out of love. It became evident on that balcony, hanging over a not so quiet Neapolitan road, that she speaks fluid English, Milanese Italian, a soccer Neapolitan, a telenovela Spanish, a Salsa congress French, and a PhD level Romanian.
Of that conversation, two points must be made: one, she practically read me her CV on that balcony. From a thesis in marketing to a dissertation in communication, to working at a major movie theater corporation, to starting her own atelier in the fashion capital of the world, to closing it down, to moving to Naples, Ela has lived a full career life to death. It made me want to get a PhD. It made me want to move back to New York and really dig into my own career. She was coming to Naples, and I was leaving.
Two, she practically detailed her deep intimate heartbreak stories of the last years. Every single one. I couldn't believe it. I had been told by a quasi-godmother figure in my life to hold back the deep inner being of my soul from the next woman I started dating. "You must be sharp in business and in dating, save your hairy messy soul for God." Really? But don't we eventually find someone worth it? "Yes. Beshert. I believe everyone has their Beshert." Soulmate. And slowly, on that random balcony, before me unfolded Beshert. She told me about her ex-husband, about a series of unfruitful romances, about her current crush, a dude named like the evil younger brother in the Ferrante novels — and it isn't my place to tattle tale them all here, that's her business, but, ladies and gentlemen, Ela was coming from the exact place as I was on this Italian excursion: being ourselves, exploring the power of sexuality, and yearning, yearning.
She had on makeup because she was supposed to met a friend to catch up, but she had basically rambled on to me, interrupting her narrative in 360 degrees only to ask me how old I was, but I wouldn't tell her, I kept deflecting, trying to reserve myself for some reason, and asked questions instead. So interested was I. Such a fabulous woman.
Now she has me write about her. Hah! Can I just put "and the rest is history" yet? The next day we barely spent it together, except running into each other, and exchanging phone numbers — because later that night we united in full, and slept but a wink, took a taxi ride together to the airport, and before taking off each to his or her respective yet temporary homes, we put our palms to the bullet-proof glass of an airport gate and took photos of each other and texted ever since. To those who know, you know; to those who don't, her and I became business partners. These posts are not just about her, but because of her. Beshert.
But before that next day and the today, a moment's pause to return to that balcony.
"I have to go," she says, for the seventh time.
I watch as she puts out her last cigarette on the gray tile of the balcony. Her dress is cream colored, with little flowers on it, at least in my mind, and is handmade.
"Did you actually make this?" I ask her.
She turns into a daffodil, blushes, and reminding me of something she's said before, goes, Yes, with her whole body.
I reach out and touch the hem of her dress, like in the bible story, and become whole.
"I've got to go," she says, and stands up. "Don't look, I am going to change."
I stay on the balcony, my hands to the rails, Ela behind me, behind a pastel veil, the thin curtain of a hostel dorm. My eye goes over my shoulder, she's putting her pants on from under her dress. Tonight there will be no silliness. Just the buzz of a conversation, the high of a long story told.
"See you when I come back," she says, and dashes away.
"See ya," I say to myself, in the room alone, invincibly happy. Drama evaporates. Money becomes meaningless. Only the desire to be next to a special person, to hold and touch them, to share words, endless words, because they excite and ignite you, means everything.
My apologies for going on. There really isn't much to say. No evilness, no pettiness. For a moment, one thinks all the good stories are full of pain and sorrow, twists and turns, decades of being lost. But not this one. One out of a million stories, like one in a million people, can be special, personal. Good for being good.
A poem from a message I left you that you thought I had borrowed from a song, but were my words to you.
I don't want to grow fast
I want to grow old
I don't need to grow up
I need to grow more
Gunna grow long for you
Fill and feel
like the fool who found
big love in the little lover
she who feels and fingers
with he who fills and quivers
together truth's their simple
magic carpet flying
over
every shivering lingering together
or for a single kiss cross an ocean
till we turn two into one
turn turn bright as the sun
turn turn turn two into one